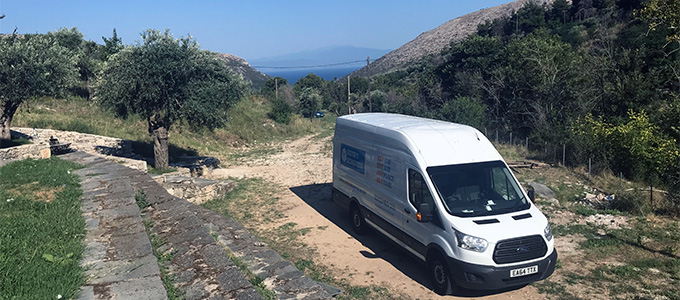 Move on a Sunday
I just wanted to say a big 'thank you' for the work you did this weekend. You were able to come out at short notice, on a Sunday, and help move a large sofa from one location to another. It needed to be taken apart, carried upstairs and then reassembled, all of which you were happy to help with to ensure project was complete.
Much appreciated and will definitely use you again.
Lars
Great.
"Keith and his sidekick Giles moved us gradually over the last ten days, which is exactly what we wanted, we certainly didn't want to move into our new home and have piles of possessions in the centre of each room.
Keith understood this and was most accommodating.
They were always punctual, polite and most helpful, nothing was too much trouble.
I highly recommend them for all sorts of removals & transport, they were FIRST CLASS !!!"
Roger Messias, Gerrards Cross, Bucks
Totally Recommend You
"Dear Keith
Thank you for your help and support on Saturday. Having been let down by another removal company you stepped in and helped me move a sofa with professionalism and friendly service."
Aileen
Moving From The UK to Macedonian Northern Greece
"Trying to find a method of moving our personal effects from the UK to Macedonian Northern Greece was proving to be a problem.
As our belongings represented a 'van full', most of the shipping companies based their methods on putting our possessions into part full shipping containers with other 'stuff'.
As I had a number of guitars, furniture, and ornaments that were precious to me, I was reluctant to do this.
I found Keith's Removals on Facebook, and after contacting him, was quoted a very reasonable price to have my possessions shipped door to door.
He arrived promptly to pick the load up and was very courteous and polite. Three days later we flew home to Greece, and Keith arrived the next day, with all our things arriving safely and undamaged.
I would recommend Keith to anyone who is seeking a reliable, professional, door to door international service."
Ian Harris, Prinos Thassos
Even At Short Notice It Went So Much Smoother
"Thanks so much for the help moving today. Even at such short notice it went so much smoother than I could have hoped for and made moving house pretty stress free."
Matt
Second Time Keith Has Helped Us Move
"This is the second time Keith has helped us move, and I'd definitely use him again, and recommend him to others. He's very communicative, helpful, reliable and a nice guy with it.
He's been really flexible with us too, which has helped a lot, as moving isn't always straightforward to plan."
Katie
Complete House Clearance
"We used Keith's Removals following a recommendation to undertake a full house clearance.
The job was a challenging one in terms of it's awkward access and huge amount of contents, but Keith and his team were excellent – completing the job promptly, efficiently and politely at all times and even below the original estimate.
I wouldn't hesitate to use them again."
Chris in Iver Heath
Using Keith's Service For Years
"Parthos UK has been using Keith's service for years. He is so helpful and reliable.
We are so happy to have his 5 stars service and would like to recommend to everyone."
Erica, Parthos UK
Moving Home To Spain Was Easy
"Moving home to Spain was easy, smooth and enjoyable with Keith. Van is really spacious for all our things, he was very helpful the whole way and flexible with our needs.
I used to employ Keith for my business transports and I had no doubt he was the man to help me with the home moving. It was a pleasure working with him and I will recommend him strongly."
Cristina
Have Used Keith On Several Occasions
"Have used Keith on several occasions for our commercial and residential clients. Very reliable, presentable and punctual and a good representation of our company when making collection and deliveries."
Graham, HFreight
Highly Impressed With The Service
"Keith recently helped me with a house move and I have to say I was highly impressed with the service. Keith was prompt, friendly and polite and nothing was too much trouble. I wouldn't hesitate to recommend this professional service."
Neil P
Professional, Cost Effective Delivery Service
"Keith's removals offer a professional and cost effective delivery service for all sizes of musical instruments to both high street retailers and commercial premises.
They offer a reliable service with a human touch.
We would recommend them."
Logistics Manager, Stentor Music
Removal Of Rubbish From My Kitchen and Bathroom Projects
"Thanks Keith for your help on various occasions on the removal of rubbish from my kitchen and bathroom projects. You have always been there when you said you would, always helpful, and not complaining when perhaps there was a bit more to take away than i led you to believe. Again many thanks and look forward to using your services again."
Barry
Always Willing To Go The Extra Mile!
"I can't recommend Keith highly enough. I've used Keith Plant Removals on a dozen or so occasions over the past couple of years on a whole range of jobs from moving delicate musical equipment into the studio, collecting and delivering furniture, helping our grown up kids move and clearing out our garage and shed. He's a great driver, very careful (never had a breakage), very reliable, patient and flexible and always willing to go the extra mile!"
Andrew C – Gerrard's Cross
Would Recommend
"Keith and Giles provided us with a friendly and highly professional services on two occasions, collecting from a house in London W2 and transporting to Balham/Clapham and then onto a separate drop off in Wimbledon. They both showed ingenuity in getting large furniture down flights of stairs, and dismantling furniture when necessary. Very careful and a pleasure to have professional services involved in our moves. Would recommend."
Phil & Carmel – London, W2
The Move Went So Well On The Day
"Changing address can be a stressful time but the move went so well on the day. Giles was extremely helpful, careful and professional. I have already recommended him to family and friends."
Alan SW20
Keith Runs A Top Notch Professional Operation
"I had Keith move all my belongings from my old place to my new house. I was apprehensive about all my belongings being moved to my new house as I have many precious items. Keith put my mind at ease straight away with his professional and friendly approach. Keith runs a top notch professional operation. I highly recommend Keith."
Ronan
Complex Removal
"Hired as we needed to facilitate a complex removal with the need for great care to be taken both of the objects themselves and also the logistical aspects of the move; we were thoroughly satisfied with the level of service provided. The job was undertaken with skill, speed and sensitivity, work was carried out in a reasonable timeframe to a high standard and the operatives themselves were polite and well presented. Would be happy to recommend."
Peter